ASEAN University Network – Quality Assurance
(AUN-QA)
This section provides a brief description of the UP Baguio Library's resources, services, and staff
in relation to AUN-QA indicators.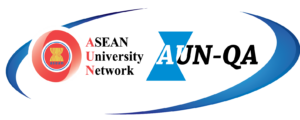 ---
SELF-ASSESSMENT REPORT
This document is a brief description of the UP Baguio Library's staff and resources. The staff describes the educational attainment, civil service eligibility, and functions at the organizational structure of the Library. To earn new ideas and approaches to make the staff more effective and efficient at work, the staff have the chance and are funded by the administration to attend seminars, conferences, trainings, forums, and workshops.
UP Baguio Library has always been responsible for teaching, providing access to information services and resources, consulting, and supporting to the following degree programs:
College of Arts and Communication
Undergraduate Programs
Bachelor of Arts and Communication
Bachelor of Arts in Language and Literature
Bachelor of Fine Arts
Certificate in Fine Arts
Graduate Program
Master of Arts in Language and Literature
Undergraduate Program
Bachelor of Science in Biology
Bachelor of Science in Computer Science
Bachelor of Science in Mathematics
Bachelor of Science in Physics
Human Kinetics Program
Graduate Program
Master of Science in Conservation and Restoration Ecology (MSCARE)
Master of Science in Mathematics
Doctor of Philosophy in Mathematics
Undergraduate Program
Bachelor of Science in Management Economics
Bachelor of Arts in Social Sciences
major in :
Economics, History, Psychology, Philosophy, Political Science, Social Anthropology
Graduate Program
Master of Arts in Social Development Studies Doctor of Philosophy in Indigenous Studies
---
The AUN-QA Network is established as the ASEAN quality assurance network in higher education with the responsibility to promote quality assurance in higher education institutions, raise the quality of higher education, and collaborate with both regional and international bodies to benefit the ASEAN community.
Learn more about AUN-QA through this link.
The UP Baguio Library first opened its doors in 1962. In 1988, a new library building which had a floor area of 1,536 sq. m. was inaugurated. After 2 years, the intensity of a 6.9 earthquake hit and damaged the Library which forced the transfer and occupied the Bulwagang Juan Luna until a new building was constructed in 1992.
In 2002, UP Baguio became autonomous and the 7th university constituent, the Library became independent from the UP Diliman Main Library which focuses on improving services and collection in harmony to UP Baguio's objectives of developing its niche in Cordillera studies and research became the vision of the Library, "To be the lead information research center in the Cordillera region" which leads the Library staff to sustain scholarly and information needs of students, faculty, REPS, administrative staff and other researchers providing fast access to the information and up-to-date information sources (Library's mission).
In 2009, a three-floor annex was constructed. The Library has grown in leaps and bounds since the 1960s. Different sections of the Library were created: Cordillera Studies Collection Library, Filipiniana, Reserve, Learning Commons, Technical, Circulation, Serials, and Cordillera/Northern Luzon Historical Archives, and a satellite library, the Graduate Resource Center. Currently, the Library offers an unwinding area to make it friendlier as studying is fun.
The Officer-In-Charge (university library) serves as the principal manager of UP Baguio Library. OIC's role in library management is mainly administrative and managerial (see PAARL Standards). The OIC is in charge of the Library's leadership, change management, delegation, and staff empowerment. The source of authority to lead, direct and manage library services of strategic significance to the university academia, students and university management including planning and library coordinating functions.
Division heads are librarians with both functional and specialist roles. As specialists, they are directly responsible for the management of library functions and services such as acquisitions, technical processing, print and e-journals, library automation, user services, and others. They are required to perform several different roles of strategic importance within the library functions under their charge. They report to the OIC for the functioning of their division.
Librarians are professionally competent which possesses the minimum educational qualification and most of the librarians finished their master's degree, and all passed the professional librarians' licensure examination.
Paraprofessional and clerical employees comprise almost half of the library staff. They assist professional librarians to acquire, prepare and organize library materials. They run day- to-day library operations essential to the effective functioning of the Library and perform supportive customer services under the direction of the librarians. Below are the position and educational attainment of the support staff. Most of them passed the required civil service eligibility – professional category.
Read more about the various SAR of degree programs here.
Read more about the various SAR of degree programs here.